The Lantana Project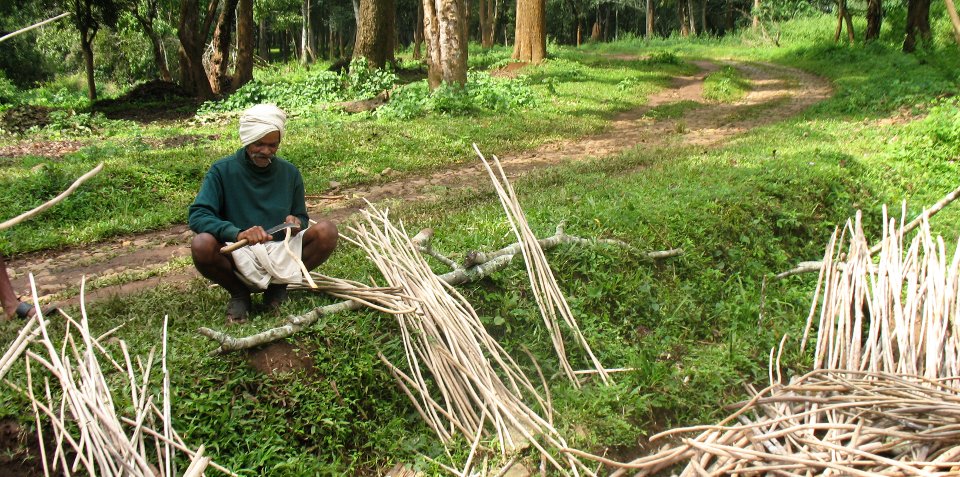 Lantana camara is an invasive weed that has spread through many forest ecosystems across India. It was brought into India (Calcutta) is 1809 as an ornamental shrub, from South America. It is now one of the world's worst weeds and is a huge threat to native plants and animals
Its leaves and flowers contain toxins, Lantadene A and B, and so it cannot be eaten by herbivores.
It puts out chemicals that inhibit/stunt the growth of other plants (allelopathic effect), and out-competes all other plants.
Each plant can produce up to 12,000 seeds! And each seed can remain dormant up to 11 years, and will germinate faster if exposed to smoke (possibly from forest fires). They also germinate better if passed through the digestion tract of birds.
If cut down, it puts out new shoots (coppices), which grow much faster than the mother plant, and form dense, impenetrable thickets.
If the roots are dug up, then many dormant seeds, when exposed in the disturbed soil, all germinate, increasing the density of lantana in the area.
In short, it's a terrible weed, that has a huge detrimental effect of native species, and almost all removal strategies have been unsuccessful.
We have been trying to do something about this, with the overall goal of adapting to the plant and getting local people to use it. We are working with the forest department staff in the Mudumalai and Bandipur Tiger Reserves to come up with a protocol to map the spread of Lantana and monitor it continuously year after year.
We have also worked with local communities on a Lantana Furniture Project. With initial inputs from ATREE in 2009, and working in collaboration with the Tamilnadu Forest Department and The Adivasi Munnetra Sangam, we launched an initiative to help local indigenous (Adivasi) communities use this weed to make furniture. It has lots of ups and downs, and we've learnt a lot in the process. (This book chapter outlines the details -Thekaekara et al 2013 Lantana furniture and diversity in Livelihood in Mudumalai)
The removal of the weed will benefit the forest ecosystem, and the removal process will hopefully be self-sustaining and continuous all year round, making it very effective in the long term.
The Shola Trust's model is to provide the communities with as little support as possible, in the hope that they will be able to let the programme evolve and develop in a way that suits them. We do not try and play a middleman role, and encourage them to market the furniture as far as possible in local areas. 'Growth' is very slow and often painful in this way, but is not driven or pushed by external agents, so is more organic and self sustaining.
We are happy to provide training where ever required, and encourage other groups to in turn train others, in the hope that people's use of Lantana will expand virally. This presentation outlines the process – Lantana Furniture and Craft
We have also recently got into making briquettes that can be used as a fuel source – more on the blog!
(Last updated May 2014)
Arm Chair

Arm Chairs can be used separately or with sofa sets

Basket

Can be used to store vegetables, fruits, clothes ... even as a waste basket

Book Shelf

A nice book shelf for your home library

Chair

Ideal for kids. Can be used separately

Chair

Another design for the baby Chair

Round Table

An aesthetic design for your drawing room

Sofa

It is a four seater. Three seaters are also available

Sofa Set

Your garden will look like this. A good alternative for cane furniture

Harvesting Lantana

An adivasi family harvesting lantana sticks

Curing Lantana

Lantana sticks being cured and processed

Lantana Artisans Team

Dr. Rajeev Srivastava, FD, Mudumalai Tiger Reserve with the Lantana Artisans Team