Camera Trap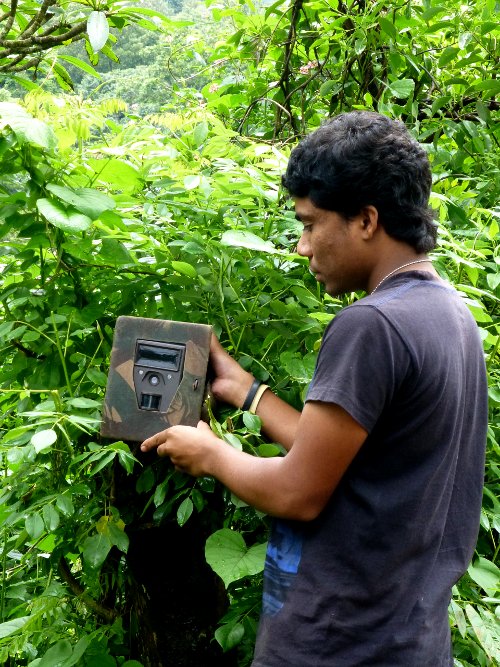 My name is Ramesh and I work at The Shola Trust, and in this blog I am going to write about our a new project which is setting Camera Traps on private land.
Camera trap is like an ordinary camera, but it has a sensor, which will automatically take a picture if anything moves in front of it. We want to see what all animals are there in tea estates, and we want to get the land owners more interested in wildlife. I have written about my experience in the last two weeks of doing this.
We have two camera traps which Bushnell (which can take videos and photos), and the IISc camera trap (which is little old and can take only photos). IISc in Bangalore has lent the unit to us, so we call it the IISc Camera Trap. Bushnell takes videos in the night with Infra-red light, and the IISc one has a flash. We don't have the permission from the Forest department to set the camera trap in the forests, so we are working on private lands.
First we went to Tarsh anna's house at 27th mile. It's at the bottom of a mountain called Thavalai Mallai. The whole Shola Trust team was there and we set both the camera traps (IISc and Bushnell) on a small Sandal wood tree. Then Tarsh anna and others walked like an animal in front of the camera to check the position is correct or not. Next day he brought the camera to office and we checked the video and photos. We got good videos of Wild boar and close up picture of Porcupine. Tariq anna took a session with me on all the settings in the camera traps and handling it. Next few days I went alone to the same area and set the camera trap but different locations. We got more pictures and videos of sambar deer.
After one week I changed the place to Nandakumar uncle's land in Kokkal. Even this place is also below a mountain called Kokkal mallai which is near the the Thavalai mallai. I kept the camera with the help of Anti poaching worker (APW) who lives in a nearby village. He showed me a path where a Leopard moves regularly. There was an small orange tree nearby, and I tied up only the Bushnell camera on the tree as the IISc camera was not working.
Next day early morning the APW called me told that the camera was hanging and somebody had tried to remove it. Its a very expensive camera, so I went to the place as soon as possible and saw that the camera was really hanging from the tree by the chain. I opened the camera and checked the video. Unbelievable – it was an Elephant that had come and tried to break the camera. It had tried to break it with its trunk and head, then also tried to kick it and stamp on it. But luckily Tarsh anna had made a outer cover with steel and I had locked it with a heavy chain. Otherwise that would have been be the end of our camera. Good thing it was not a tusker. That was that was the first time we got a video of an Elephant in our camera.
After that we kept the camera in a village called Chembakolli which is near Mudumalai tiger Reserve. We kept it close to Arun and Dhanesh's houses. And we got a massive tusker crossing. We kept it again in Tarsh Anna's house for a few days. He was saying that we should not worry too much about big animals like elephant, leopard and tiger, and should also be happy with getting close up pictures of small animals like porcupine and mouse deer. Next day morning he messaged me saying to check my email. He had sent a a good clear picture of a leopard leg! I was really happy see that, but sorry that we didn't get full picture of it. And now that is wallpaper of Tarsh anna's laptop, though he still talks about how we should concentrate on mouse deer, civet cats and all. Mari aunty also liked the picture and wrote a blog about it.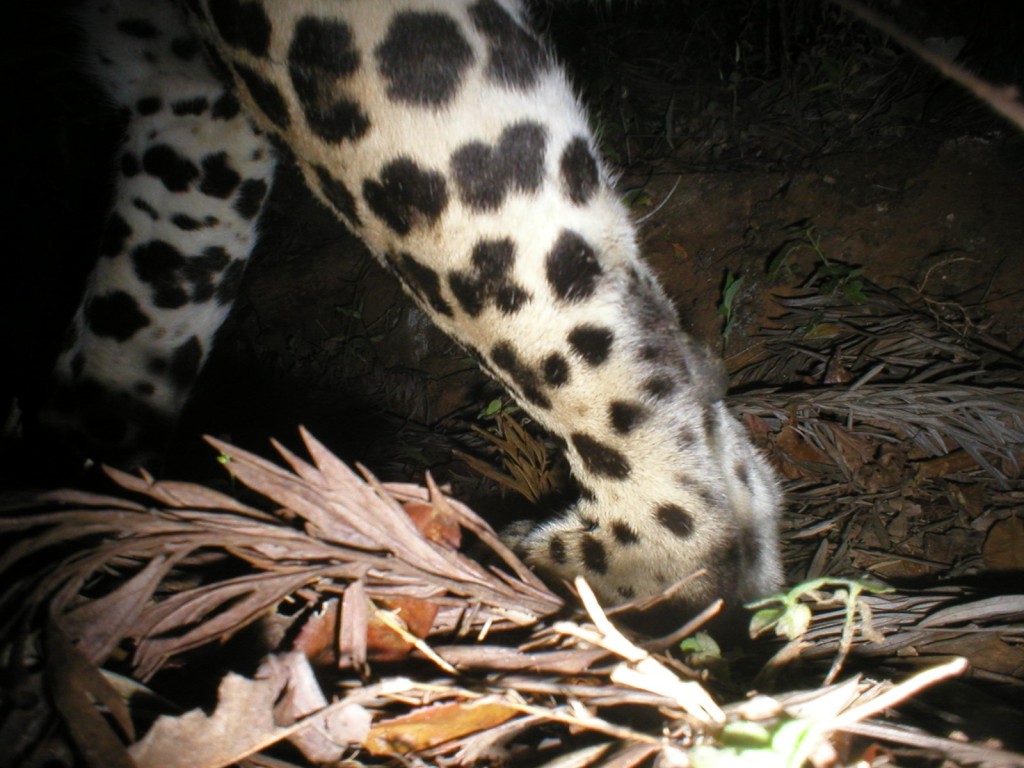 Though people all know leopard is there, it makes us happy to see a picture. So our plan is working. We hope people will remove electric fences after getting more pictures.
And soon we hope to get good clear pictures and video of more leopards, tigers and elephants.
We are grateful for the support from The Elephant Family and many other individual donors for this work.