Elephants and Panchayat Presidents
On 28th of June we had a meeting about Human Elephant Conflict at the RDO (Revenue Divisional Officer) office with the help of Rotary Club (Dr. Venkatesh). We had called all the nine panchayat presidents, and the RDO, senior police officers (DySP), and Forest Department Range Officers, various NGOs etc.
Ramesh explaining about the wider geography of the region
The main reason of the meeting was to ask all the panchayats about their experience of problems with elephants and what they thought were the solutions. First Dr. Venkatesh welcomed all the people on behalf of Rotary club, and we gave an introduction about the issue and about elephants.
Then RDO spoke about how everyone should work together to solve the problem and not all fight with forest department. DySP spoke about the problems for police and how too many people gather and make it a law and order problem whenever elephants come. Mr. Sivasubramaniam from WWF also spoke about the elephant problems in other areas, and what methods are working in other areas.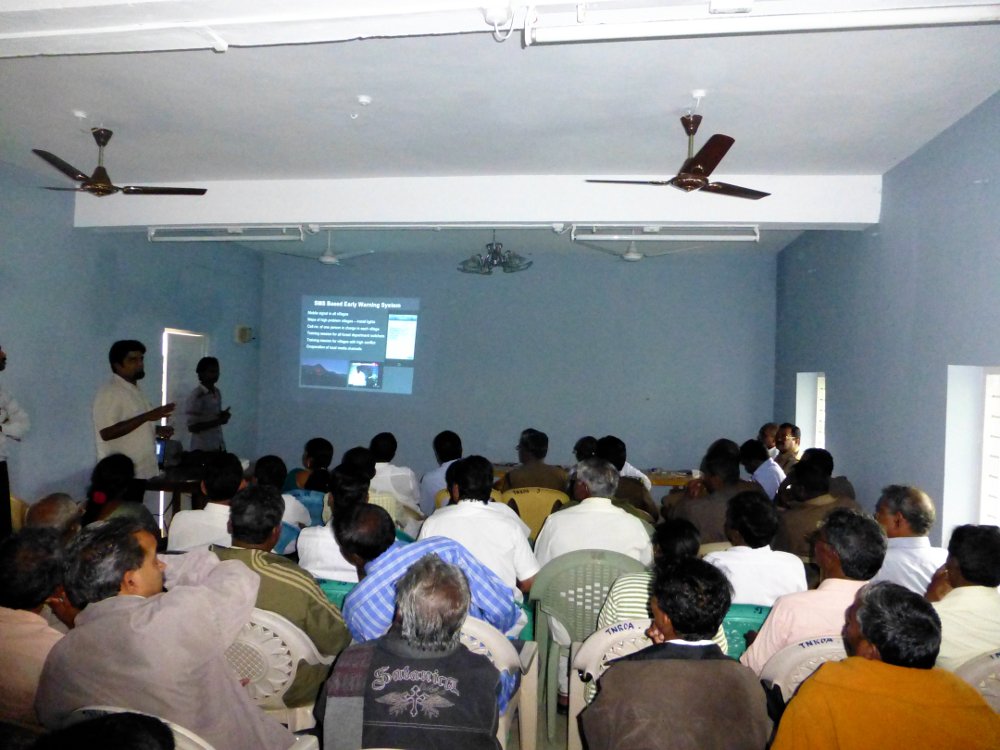 Tarsh and Arun talking about an Early Warning System
Then each panchayat president spoke about the problems. Though we told them to also speak about solutions they mostly only complained about problems. Most of them are politicians from DMK or AIDMK, and some are not interested in solving the problem, only to keep fighting.
This is a summary of what the panchayat people had to say:
Compensation should be given on time, and not delayed.
Compensation is only given for patta (private) land, it should also be given for others.
For death, compensation amount should be increased to 5 lakhs, and 2 lakhs for injury.
Insurance for agriculture is a must. Forest Department should provide this.
Relocation of Chetty community from Mudumalai should happen soon and not be delayed.
More high quality electric fences are needed, and trenches also need to be maintained well otherwise they get filled every year with mud after monsoon.
Forest department should help people to chase the elephants away when they come.
Panchayat Member talking animatedly to the forest and revenue officials
At the same time, some opposite views were also given:
All the elephant killing people are by accident, they don't intentionally kill people. People often throw burning rubber, light fire, burst crackers etc and then elephants become scared and become very violent.
Elephants are very clever and will break the fences and cross the trenches if you plant crops they like to eat. Bananas are favourite food of elephants, and people should not plant more of these.
At the same time there is less grass in the forest for elephants to eat since lantana is growing everywhere. That needs to be removed.
In Thorapalli they have put trenches on both sides of the road, and now problem is even more as elephants come along main road.
Forest department is digging trenches in a foolish way. The elephants are all inside the village area, and trench is being dug so they cannot go back into forests. First elephants should all be chased out, then only trenches should be dug.
Trenches will work only in some areas near to Mudumalai, they cannot work in all the places, since elephants are living in Gudalur division all the time.
People are building houses and roads and in areas that elephants come regularly. This makes the problem even worse in other areas also.
Forest department Range officers also spoke positively. They said their aim is to work more closely with local people, and together find solutions. People should think forest department can solve all the problems, and they also should cooperate, not only fight all the time. They said they will cooperate with local people as much as possible to form more Eco Development Committees (EDCs) so they can all work together to solve the issue. They will try their best to give compensation on time.
So all together people themselves know most of the issues. But they do not agree among themselves, and most are still angry with the forest department.
Next we are going to have meetings in all the panchayats and in villages, and we will make more detailed plans about what can be done. People from Srimadurai, Cherambady and O'Valley Panchayats were very interested in having a meeting there.
We are thankful to the Elephant Family and many other individual donors for supporting our work.
Notes by Ramesh M, The Shola Trust. 30th June, 2013.